The 'Not-So-New' Sunglasses Craze: Shutter Shades
The 'Not-So-New' Sunglasses Craze: Shutter Shades
If the outfit makes the man, then it goes without saying that the accessories make the outfit. Sunglasses are more than just protection from the eyes, they are a

can't-do-without

accessory, and this can be seen in the not-so-new trend of shutter shades. Popular in the 80s, shutter sunglasses, know at the time as Venetian Blinders, have made a huge comeback in recent years. The first celebrity to bring these sunglasses back to popularity was Kayne when he wore a custom pair in his music video Stronger:
These custom made, white plastic shutter shades were only the beginning. Soon other famous celebrities were adorning these crazy, but fun sunglasses, and once someone like Paris Hilton gets photographed wearing them, you know they are bound to be a hot item.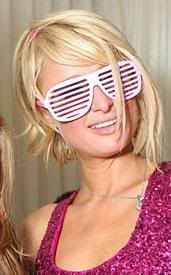 With their popularity many sunglasses manufactures have begun producing shutter shades in many different designs and colors. So if you are looking for a fun and trendy pair of shutter shades to match your outfit, you are bound to find a pair that works right for you.